Deciding which secondary schools to go to can be hard for parents and students because there are many factors to consider and there are even more schools to choose from. Understanding how important the transition to secondary schools is for students and parents alike, we have prepared a short guide on educational pathways to take after primary school. 
Essentially, there are three types of secondary schools in Malaysia, namely 
National Secondary Schools (following the National Curriculum and examinations)
Independent Vernacular Secondary Schools (typically Chinese Independent Schools following mainland China or Taiwan syllabus)
International Schools (following different international syllabus)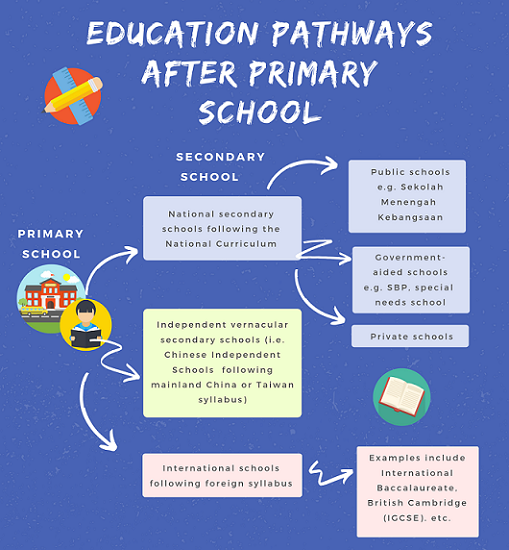 To make things simple for you, let's go through the types of schools one by one.
National Secondary Schools 
Public National Schools 
The National Secondary Schools or government schools are the most common type of school in Malaysia with more than 2400 schools dispersed across Malaysia (Ministry of Education). It follows the National Curriculum also known as Integrated Curriculum for Secondary Schools or Kurikulum Bersepadu Sekolah Menengah (KBSM). The medium of instruction in these schools is Bahasa Malaysia with English being taught as a compulsory second language. 
Since national schools are fully-funded by the government, only a minimal fee is imposed on parents. Despite the minimal fee, this does not mean that the quality of education in public schools is any inferior from those that require parents to pay more. Every few years, the government will come up with the Education Blueprint to improve the access and quality of education. There are also many elite and cluster public schools that have been proven to produce academically competent and holistic students. In fact, some of these schools are very selective and only accept those with exceptional academic performance in primary schools. 
Students of schools that follow the National Curriculum will be required to sit for Form 3 Assessment or Pentaksiran Tingkatan Tiga (PT3) and a centralised examination called the Malaysian Certificate of Education or Sijil Pelajaran Malaysia (SPM) in Form 5. 
PT3 was first introduced in 2014 to overhaul the education system to make it more comprehensive. Form 3 students will be appraised through these assessments:
Case studies – only for Geography and History subjects

Oral and listening test for Bahasa Malaysia and English

Written test for other subjects
Then in Form 5. students will sit for the SPM, a national examination that is equivalent to the General Certificate of Secondary Education (GCSE) in England. This certificate is a prerequisite for enrolment into tertiary education in Malaysia. Typically there are 6 compulsory subjects that need to be taken during SPM with a few elective or core subjects that can be taken according to the students' elective course. 
Government-aided schools
Government-aided schools are schools that received government funding and usually are built on private donated land. Sometimes, they have a different school system too. 
Among government-aided schools include Chinese and Indian National-Type Secondary School, Fully Residential Schools (SBP), MARA Junior Science College and Religious schools.
1) Chinese and Indian National-Type Secondary School
Fairly similar to the public national schools, Chinese and Indian national-type schools follow the National Curriculum, meaning that students will also be assessed through PT3 and SPM. Nevertheless, the significant difference is that instead of Bahasa Malaysia, the medium of instruction in these schools are Chinese and Tamil. 
Although vernacular schools are established to endorse Chinese and Indian language and values in the school, those of other races could also apply to these schools given that they learn the language of instruction used in the school. 
2) Fully Residential Schools or Sekolah Berasrama Penuh
Also known as Science Schools, these elite schools often only accept the cream of the crop in academics and leadership as well as sports. Initially introduced to support non-urban Bumiputeras who excel in studies, the school is usually composed of 90 per cent of Bumiputera-Malays, and 10 per cent of those that come from other races. As of the time of writing, there are 68 SBPs across the nation. 
SBPs usually have a rigid schedule where students are required to go for preparation classes after schooling hours, requiring students to have good discipline. The teaching staff in these schools are also those with good academic reputation as SBPs often aim to be the best in the nation.
Those who aspire to enrol into SBPs would not just need to exhibit excellent academic results in the UPSR, they will also need to perform in their Primary School Assessment Report (PPSR) which will include an assessment of sports and co-curricular activities, classroom behaviour, as well as a psychometric test.
3) MARA Junior Science College or Maktab Rendah Sains Mara (MRSM)
Quite similar to SBPs, MRSM is a group of boarding schools created by the People's Trust Council. Students going to these schools usually would score straight As in UPSR or PT3 with an outstanding track record in extracurricular activities. 
Nevertheless, different from SBPs, MRSMs quota for non-bumiputera students is 30 per cent. MRSMs also use the grade point average (GPA) in assessing their students. A similar assessment method is used by many tertiary education institutions too. Students with a cumulative grade point average (CGPA) of 2.00 in their final semesters will be awarded a certificate of graduation. 
Furthermore, different MRSMs offer different courses:
MRSM Premier (integrates the National and Mara curriculum)

MRSM Cambridge-IGCSE ( students take both SPM and the IGCSE exam)

MRSM IB-Middle Years Programme (follows the International Baccalaureate syllabus)

 MRSM Teknikal (students study Technical Science modules)

MRSM Ulul Albab (include Quranic learning, equestrian and archery)
4) Religious schools
'Sekolah agama' or Islamic schools and missionary schools (e.g. Catholic and Methodist), like other national type schools also follow the National Curriculum. The main difference is that these schools would usually promote the moral values, teaching and lifestyle of the Quran and Bible.
In Islamic school, typically students have to take extra subjects like Islamic study (Tasawwur), Quranic studies, and Syariah Islamiah (Islamic Law). Some missionary schools do not make it compulsory for their students to take Bible Knowledge as a subject, letting students take it as an option. 
5) Special Education School
Created for students with special educational needs or learning disabilities like speech delay and autism, this type of school gives extra care to their students to make sure that the student can adapt well with the lesson and the environment they are studying in. 
Often, the teaching staff in these schools are highly trained in conducting programmes for special needs students. Students in special education schools are also given an extended duration of time for them to complete their studies.
Private National Schools
Private schools are schools in Malaysia which offer the Malaysian National Curriculum at the primary KSSR (Primary School Standard Curriculum) and secondary KSSM (Secondary School Standard Curriculum) levels. These are reviewed curriculums introduced to make sure that students have the right knowledge, skills and are equipped to face the challenges of the 21st century. Additionally, there is an emphasis to instil creative thinking, innovation, problem-solving and leadership skills in students.
A private school is neither funded nor administered by the government. It is controlled by a private body and funded partially or wholly by the tuition fees of its students. The fees are usually higher in private schools. At the same time, private schools typically have better facilities and up-to-date technology compared with public schools.
Private schools are open to both local and international students. Apart from day school, there are private schools that also offer full residential boarding facilities for students. They offer a wider range of elective subjects, extra-curricular activities, sports and learning facilities. 
Many private schools have smaller classes and a longer study duration. This allows for more attention to be given to each student during classes. This methodology is important for developing an environment where interactive learning takes place at all levels. Teachers employed in private schools also tend to be paid more than in public schools which may lead to better quality teaching. Some parents choose to pay more for their child's education to provide a better learning environment for their children.
Despite following the Malaysian national curriculum, private schools strongly emphasise on the English language. Students who are keen to enrol for private schools may need to go through an assessment and interview.
In short, private schools follow the same curriculum as decided by the Malaysian government. However, the method of delivery is decided by the school board. The school administrators get to decide the school fees and admission criteria. The school also has the right to decide whether a student meets the requirements for admission or not. It also decides the criteria for the recruitment of teachers.
Similar to public schools, private school students are required to sit for their Form Three Assessment (PT3) in Secondary 3 and the Sijil Pelajaran Malaysia (SPM) in Secondary 5.
Private school fees can be quite costly as they are funded by private companies or organisations and receives monetary aid or subsidies from the parents. In return, they aim to provide students with the best teachers, school facilities, and learning environment to further enhance the growth and development of student's skill sets.
In summary, investing in a good education for a child can help them obtain the best learning experiences for a better academic life both now and for the future.
If you are interested to know more about the types of independent vernacular schools and international schools available out there, head to these articles below: 
Read:  Independent Vernacular Schools in Malaysia

Read: International School Curriculums in Malaysia (Part 1)