In Part 1, we have learnt about the British, American and Australian curriculums, in this second part, we want to enlighten you how do the International Baccalaureate (from Switzerland) and the Canadian Ontario syllabus work. So, let's dig into it!
International Baccalaureate (IB) Curriculum
Initially created in 1968 by the International Baccalaureate Organisation as a non-profit foundation, the International Baccalaureate (IB) programme has gone a long way to becoming one most pursued curriculum in the education world. With more than 4,700 IB schools all over the globe and around 800 in Asia alone, the programme focuses on developing holistic students who are internationally minded and understand their roles as a member of the global community and guardian of the planet.
 For all levels, IB uses a transdisciplinary approach as a mean to teach students on how to correlate and apply the concept that they have learnt to solve the real-world problem. In achieving this, IB World Schools encourages its students to have these 10 attributes: inquirers, knowledgeable, thinkers, communicators, principled, open-minded, caring, risk-takers, balanced and reflective.
There are basically four stages of the IB programme namely Primary Years Programme (PYP), Middle Years Programme (MYP), Diploma Programme and Career-Related Programme. PYP is for children aged 3 to 12 years old, MYP is for those who are of 11 to 16 years old, while both Diploma and Career-related programmes are for students from 16 to 19 years old.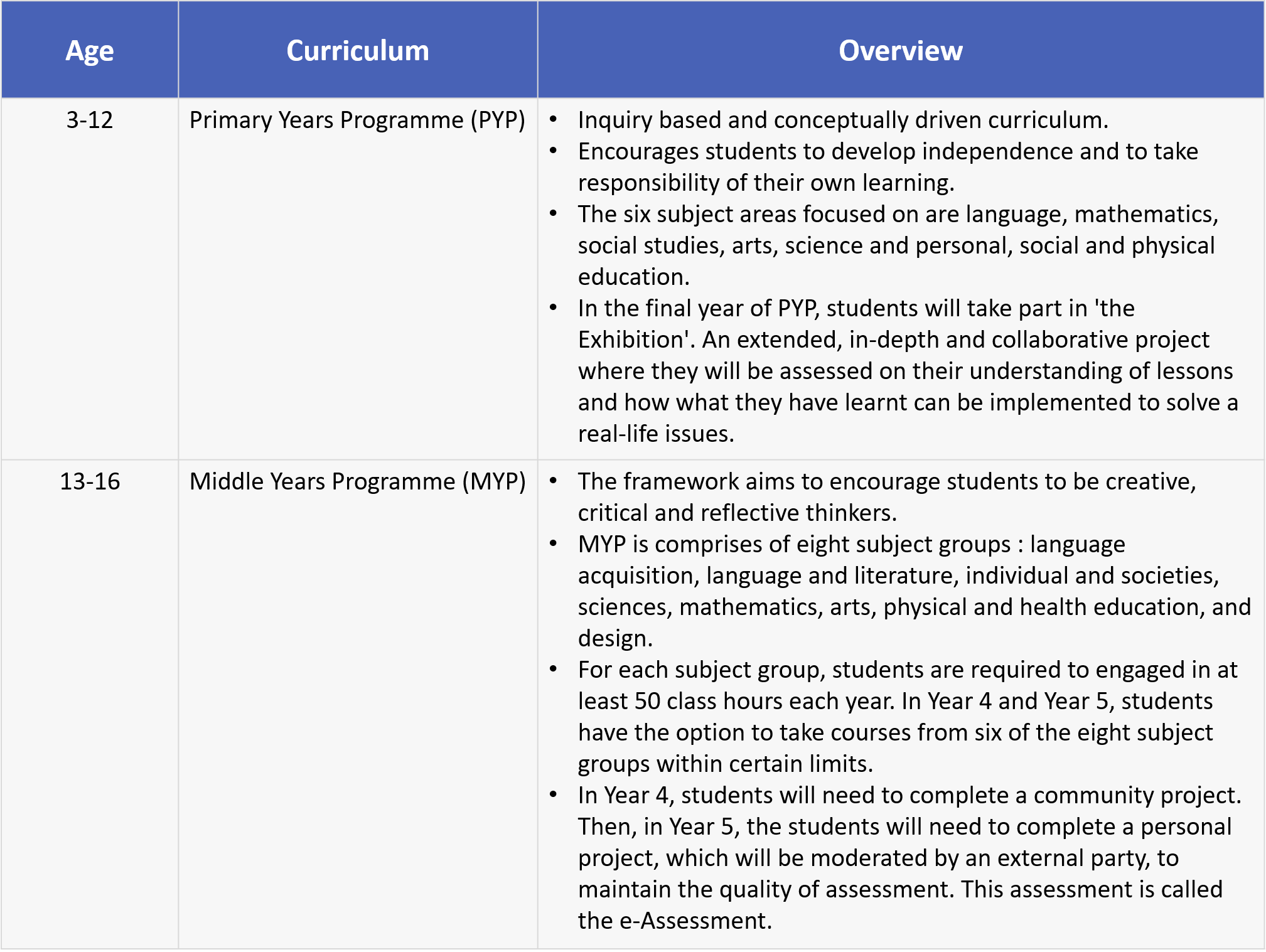 Summary
Pros
Cons

Holistic approach, emphasizing more on applying knowledge rather than rote learning

Focuses on developing personal skills students will require for life after school, rather than just academic achievement

Final exam scores count for 75% of overall grades, internal assessment and coursework counts for 25%

May not suit every type of student as a high degree of self discipline is required to self study and manage the hefty load of assignments

May be difficult to find private tutors for extra coaching

Final exam is taken at the end of the 2nd year IBDP programme which can be tougher as it tests 2 years worth of material

Leads up to the IB Diploma Programme which takes 2 years, not suitable to students who want a shorter pre-university foundation programme
Is it right for you?
The IB curriculum is better suited to the "all-rounder" types who are interested in or excel in quite a few disciplines. The IB's structured approach to learning means there's no hiding from the subjects you don't like or you're not good at. Due to the heavy workload, IB is best suited for students who are motivated, self-disciplined, and have very strong work ethic.
CANADIAN ONTARIO CURRICULUM
 Canadian Ontario curriculum is one of the best education curriculums in the world because the model places high importance on ensuring that its students fully grasping the basics of literacy and numeracy, especially at the elementary level. In fact, in the recent Worldwide Educating for The Future Index, Canada placed second in the world in term of preparing students for the future.
 The six core values of the Canadian Ontario curriculum are character education, citizenship, communication, critical thinking and problem solving, collaboration, as well as creativity and imagination.
 The Ontario Curriculum is divided into three main stages: kindergarten, elementary curriculum, and secondary curriculum. Upon the completion of secondary school, students will have the opportunity to continue with the Canadian International Matriculation Programme (CIMP) or the Canadian Pre-University Programme (CPU).
Summary
Pros
Cons

Sunway International School is the only School licensed by the Ontario Ministry of Education to grant credits leading to the Ontario Secondary School Diploma

Final exam scores count for 30% of overall grades, internal assessment and coursework counts for 70%, reducing the stress of major year end exams

May be difficult to find private tutors for extra coaching. Sunway International School is the only school offering this curriculum in Malaysia

Accreditation is not as recognised globally compared to the British and IB curriculums
Is it right for you?
Best suited for students who wish to study their tertiary education in Canada or America.
Now that we have covered all the main curriculum for international schools in Malaysia, we hope that will help you in choosing the best schools for your little ones. Do remember to consider all options based on our checklist given from our previous article "International School 101: Everything You Need to Know" before deciding!
 If you missed out Part 1 of our article, do click here! Also, don't forget to check out what other people review about the schools that you're eyeing for on Edu Reviews and good luck on deciding!