So, you want to go camping and experience nature with your family but just thinking about preparing for the experience is already a nightmare. First, you will need to make sure that you have all the campsite gears needed (yes, that includes tent, tarps, fire kindler etc). Second, you will also need to equip your kitchen camp with food items for the meal, stove, cooking utensils and trash bags. Most importantly, you will also need to make sure that your little ones are having fun. And that equals to lots of game planning. Thank goodness, now we have glamping as an alternative to camping. A little more expensive, yes. But at least if you are really looking forward to resting and just enjoying yourself with your family, then it is certainly something you should be looking at.
Glamping (noun): A form of camping involving accommodation and facilities more luxurious than those associated with traditional camping.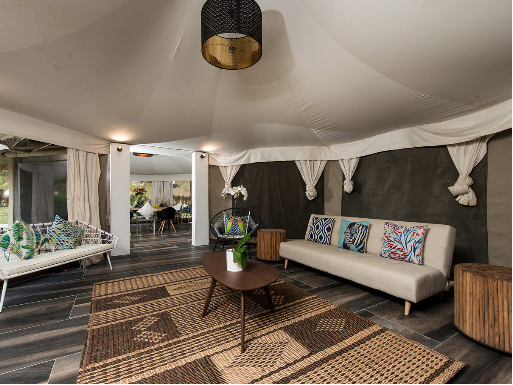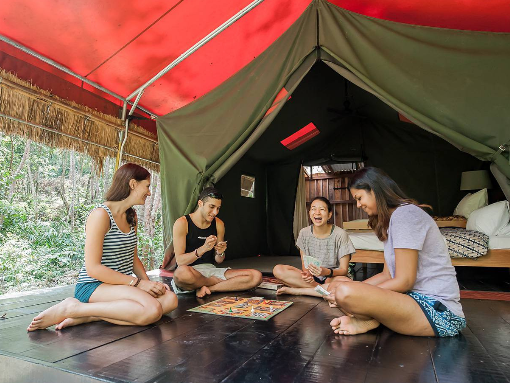 Source: The Sticks
If you have never experienced staying in a 'tendok' (a hybrid of pondok and tent) before, then you might want to pay The Sticks a visit. Offering a full board experience to its visitors, you do not need to worry about having to prepare your food and bringing your own ingredients from home. And, if your child is less than 2 years old, the meals are free, too! This eco-glamping site also has many activities that you can try out. Into the outdoor experience? Check out their jungle trekking, parasailing or water rafting activities. Not so much? Then, you can just chill and play their myriad board games.
Location: Lot 213 Jalan KKB, Fraser's Hill, 44000 Kuala Kubu Baru, Selangor
Rates start from: RM206 per person.
Website: The Sticks
Source: Tadom Hills Resort
Boasting almost 40 acres of limestones hills, lakes and trees, Tadom Hill Resort is perhaps one of the most popular glamping options for those who want to run away from the hustle and bustle of the city. Famous for its land and water activities, you can choose to go for the ATV ride, Tarzan Swings, archery and many more. Importantly, for water activities, you will be provided with life jackets and there will be lifeguards on standby, so safety is one less thing you have to worry about. Tadom Hills Resorts also prides itself in offering the unique indigenous Orang Asli and bamboo culture. Should you be interested to learn more about the Temuan heritage, do not be shy to approach the staff to ask them about it.
Location: Tadom Hill Resorts, No.2, Jalan Bukit Tadom, (Kampung Orang Asli) Kampung Labohan Dagang, 42700 Banting, Selangor
Rates start from: RM206 per person.
Website: Tadom Hill Resorts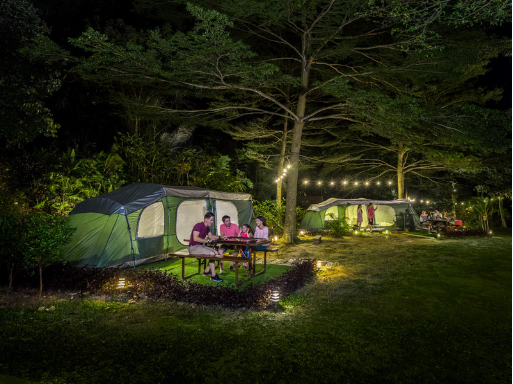 Source: Lost World Glamping
The normal 1 to 5-star hotel experience sounds boring to you? Then why not try 5 billion star hotel experience instead? Apart from being able to enjoy glamping at the around the 400 million-year-old limestone rock outcrops, your package will also include 2-day access to Lost World Of Tambun theme park, an access Lost World Hot Springs Night Park, and breakfast at Garden Terrace (for each pax).
Location: Glamping at Tambun Lost World, 31400, Ipoh, Perak
Rates start from: RM207 (for child), RM215 (for adults)
Website: Lost World Glamping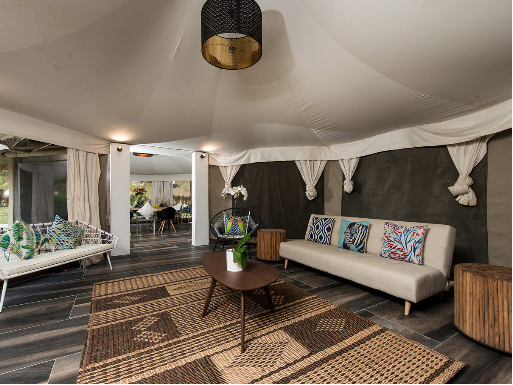 Source: Tiarasa Escapes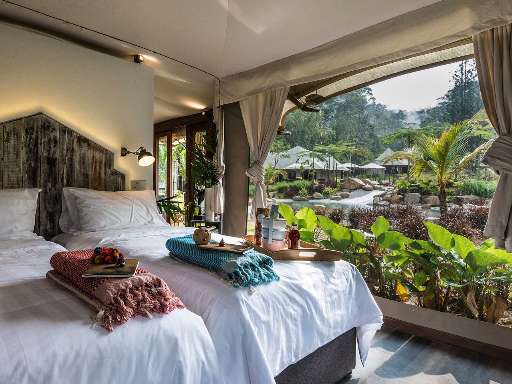 Source: Packist.com
With 20 luxurious safari-style tents & 5 dreamy treehouses furnished with elegant king-sized beds and other Bornean embellishments, it's not an overstatement to say that Tiarasa Escapes is the embodiment of luxurious glamping. Only 45 minutes from KL, there are so many things one can do with their family members here. You can go for a birdwatch and nature walk at the designated trail, stargaze using the Celestron telescope, or even plant and name your own herb at Tiarasa Escapes!
Location: Persiaran Enderong, Kampung Janda Baik, 28750 Bentong, Pahang
Rates start from: RM990 per night
Website: Tiarasa Escapes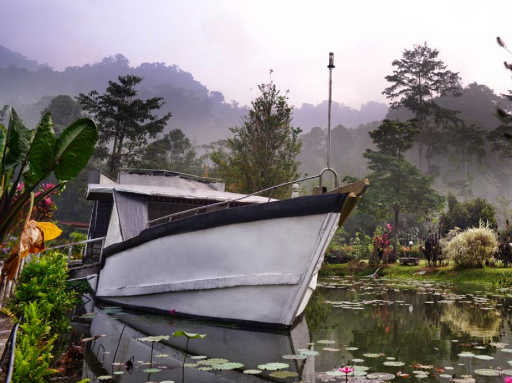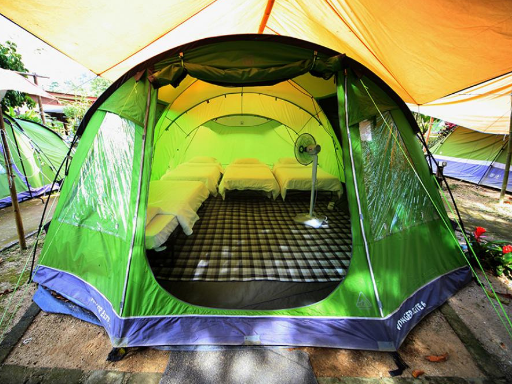 Source: Sailor's Rest
Situated 600 metres above the sea level, a retreat to Sailor's Rest is best for those who are desperate to run away from the hot and humid weather that the city beholds. You can bring your kids to enjoy a dip in the river, eat the mangosteens and durians at the orchard during the fruit season or for something different, fishing! There are 7 choices of accommodation that you can select from – bungalow, boathouse, chalets or their famous glamping tents. Interestingly, Sailor's Rest also provides an open space surau on a lake for Muslims who want to perform their congregational prayers outlooking the serene nature.
Location: Lot 8592, Lorong Dato Panglima, Kg. Sg. Lurau, Janda Baik, 28750 Bentong, Pahang.
Rates start from: RM30 (child 3-5 years), RM75 ( per child 6-12 years), RM95 (adult)
Website: Sailor's Rest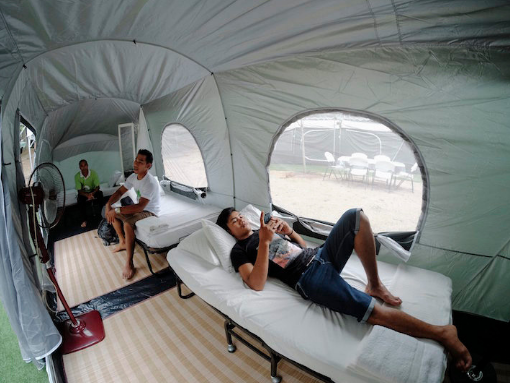 Source: Tanah Aina Fahad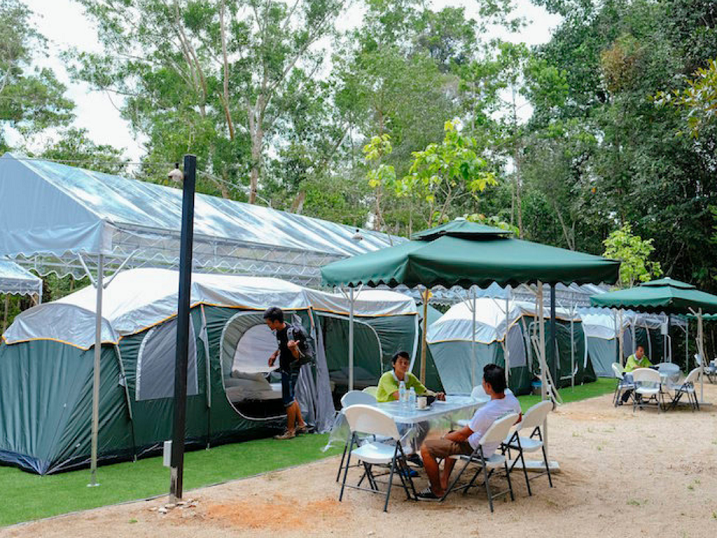 Rich in environmental soundscape, Tanah Aina Fahad in Raub is perfect for families who are looking for a short and tranquil getaway. This 8-acre campsite is also very close to the cascading river, hence you will be sleeping with the sound of water as your lullaby. For the smaller kids and toddlers, if you are worried about bringing them to take a dip in the river, then there is a wading pool with a fountain as a safer option.
Location: Lot 1053, Mukim Ulu Dong, Raub, Pahang
Rates start from: RM240 per person.
Website: Tanah Aina Fahad
If you are wondering why some other popular glamping spots like Jamapala Resort and Sekeping Serendah are not in the list, that is because these places are more catered to adult visitors. As children enjoy doing activities more, the aforementioned spots on our list are more suitable for them. But if you are looking for a romantic getaway with your partner without your little ones, then you should check out these two too!