It's that time of the year again! Christmas is around the corner and you'd be thinking of where you could spend quality time with not just your partner but most importantly, your children! Kids love the Christmas season because they can enjoy their year-end holidays. What you can do as a parent is to reward them with a well-deserved outing where you can have fun as a family. So, here are 8 places where you should bring your kids to this Christmas!
PLACE #1
–
GENTING HIGHLANDS – PAHANG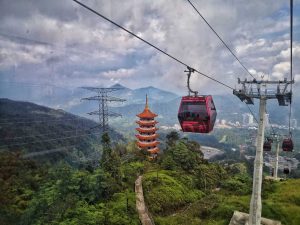 Source: Get Your Guide
Known as one of Malaysia's most popular vacation spots, Genting Highlands is known for its outdoor and indoor theme parks for kids such as the Skytropolis Indoor Theme Park that allows you to experience more than 20 rides in First World Plaza and adjacent to SkyAvenue. When you are there, remember to get on the cable cars and enjoy the breathtaking views from the top. Besides, Genting Highlands is only a short drive away from Genting Highlands Premium Outlets (GPO) that frequently has promotions for their retail outlets which makes it the perfect place to visit to shop for festive goods!
PLACE #2
–
LEGOLAND MALAYSIA – JOHOR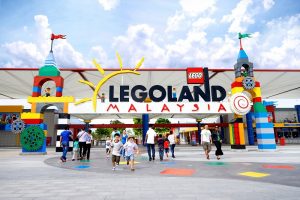 Source: GoTicket.my
The first international theme park in Malaysia located down south in the state of Johor. As it is 76 acres in size, you can be sure that your children would have plenty of space to run around and enjoys enjoy the wide range of activities that they provide. The figures and decorations are mostly made from Lego bricks! You can be assured that your kids will be fascinated by the colourful castles, pirate ships, animals and even KLCC figures built from Lego! You can book a stay in Legoland Hotel too. It allows you to pick your room with choices from 4 unique themes – Pirate, Adventure, Kingdom and Ninjago. The interior design of the room will be based on the theme that you select. Come find out more about the beauty and fun when you bring your kids here this Christmas!
PLACE #3
–
SUNWAY LAGOON – SELANGOR
Source: Voyagin
Sunway Lagoon caters not only to kids but adults as well! As it is located in Bandar Sunway itself, you can drop by other nearby places like Sunway Pyramid to shop and look for food or even spend a night in Sunway Resort Hotel & Spa or Sunway Clio Hotel for convenience. There are 6 different adventure zones in Sunway Lagoon for you to enjoy while you're there with your kids!
Read: Top 6 Recreational Places To Visit With Your Kids In KL & Selangor
PLACE #4 – AQUARIA KLCC – KUALA LUMPUR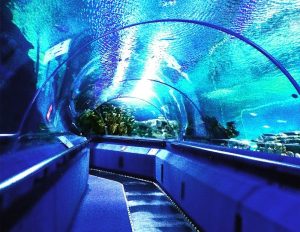 Source: Traveloka
Aquaria KLCC is perfect for your kids! You'll come across animals such as fishes and sharks when they swim past you while you walk through an underwater walkway tunnel. It's good to expose your children to additional knowledge about animals and the conservation of the marine ecosystem as it may come in handy in the future. Start them young!
Read: Top 6 Educational Places To Visit With Your Kids In KL & Selangor
PLACE #5
–
MOVIE ANIMATION PARK STUDIOS (MAPS) – PERAK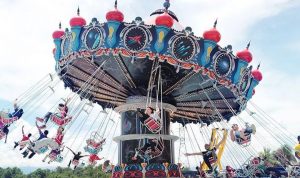 Source: JomJalan
Movie Animation Park Studios, Ipoh or simply known as MAPS is the first fully animation-based theme park in Asia! It has more than 40 attractions (including thrilling rides) in 6 themed zones – Animation Square, Blast Off Zone, Trick O'Thrill, Fantasy Forest Zone, Lakeside Zone, Live Action Zone for you to enjoy with your kids. The attractions are based on animations such as DreamWorks Animation and The Smurfs. When you're free, you can also look for food around that area because Ipoh is famously known for being a food haven! 
PLACE #6 – PENANG HILL – PENANG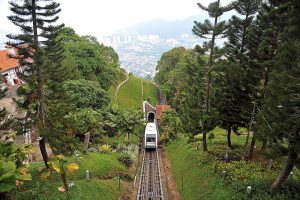 Source: Malay Mail
As the name suggests, Penang Hill is situated in Penang and offers the perfect escape from the hot climate of the city. One of the highlights would be the train ride to Penang Hill itself. During your journey, sit back, relax and enjoy the cool atmosphere and lush scenery. The breathtaking views of Georgetown, the Penang bridge and the mainland from the top of the hill would leave you and your children in awe!
PLACE #7 – A'FAMOSA WATER THEME PARK – MALACCA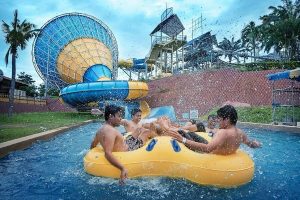 Source: JomJalan
Splash away in the largest water theme park in Malaysia! The A'Famosa resort area is comprised of 3 different theme parks and the Water Theme Park is one of them. A few examples of the attractions for you to enjoy as a family are family raft, wave pool, big ice-cream, high speed ride and many others! Since it is generally understood that most kids love water-related activities, then you should visit this theme park when you have the chance!
PLACE #8
–
WESTON RIVER CRUISE
–
SABAH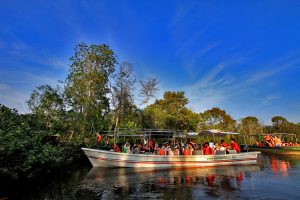 Source: Sabah Booking
The final place to visit is situated at the east coast of Malaysia. Bring your kids for a different experience this Christmas by going for a river cruise in Weston River! You will be able to see Proboscis Monkeys (long-nosed monkeys) hanging from mangrove trees. Weston is also greatly valued for its different species of Borneo Wildlife such as snakes, birds, macaques, otters, and many more. After dinner, your family could go for another round of river cruise to catch a glimpse of fireflies flying around the mangrove trees, which seem to appear as though they are Christmas lights on trees! So, why not do something different with your kids this Christmas so that they can share their unique experience of celebrating this special occasion on a cruise with their friends!
To find more articles on places where you can bring your children for vacation, please read 6 Child-Friendly Glamping Spots In Malaysia.
2019 has been an awesome year for us and we hope it was for you as well. So, to end your year on a high note, we suggest that you bring your children to visit any of the places mentioned above during Christmas so that they can have fun during this year-end holiday. From all of us at Edu Reviews, here's wishing you a Merry Christmas and Happy New Year!