Kids are curious little creatures. As much as you try to keep them away from the kitchen, they may explore it on their own. So, why not give them a kitchen tour and let them experience being a little Masterchef Junior instead? That way, they will be more aware of the danger in the kitchen and learn what they should or should not do in the kitchen. With your supervision, nothing can go wrong! Besides, you can always start off with simple, basic recipes to make with your kids before moving on to more complicated ones.
1. FROZEN POPSICLES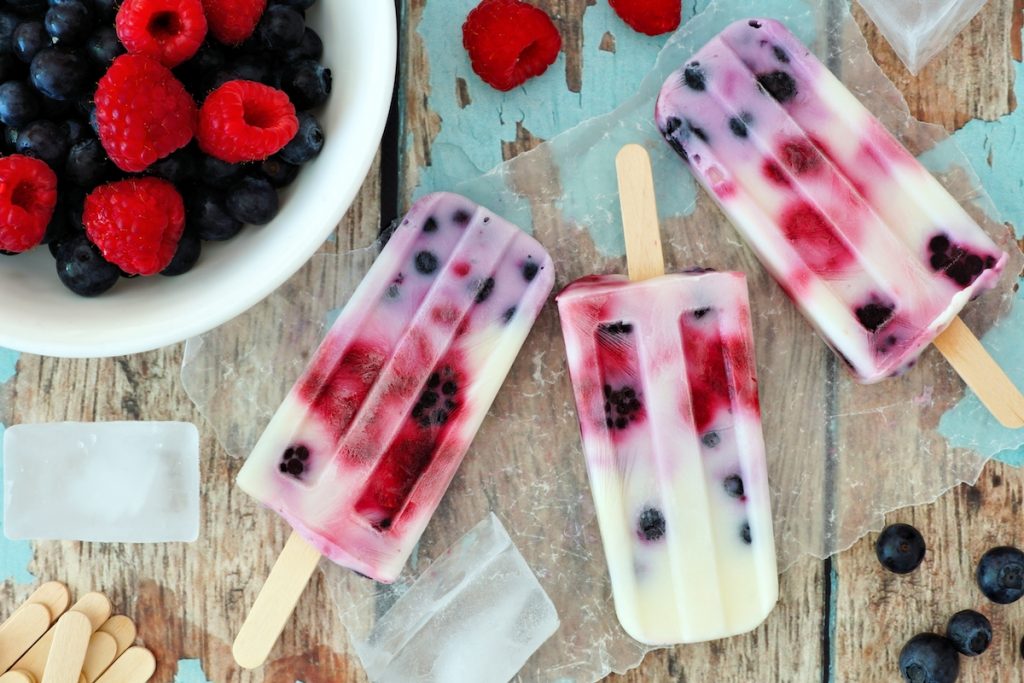 Source: Crystal Karges
A fun recipe to make with your kids, you can make any variety of flavours that your kids love. You can simply buy your kids' favourite juice or to make it more exciting, you can make your own fruit juices or use yogurts to create different flavours. Remember you'll need a popsicle mold which can be found in most supermarkets! We handpicked a slightly more complicated and yet healthy recipe for you and your kids to make together.
Ingredients
2 Cups of mixed berries (Fresh or Frozen)

2 Tbsp of honey (Can add more or less based on preference)

2 Cups of vanilla Greek yogurt
Instructions
1. Blend berries until pureed into a smoothie-like mixture
2. Pour berry mixture into a large bowl and stir in honey.
3. Gently pour in yogurt into berry mixture and taste for sweetness. Add more honey if desired.
4. Pour mixture evenly into popsicle molds and freeze for 6-8 hours or overnight.
2. CHOCOLATE BANANAS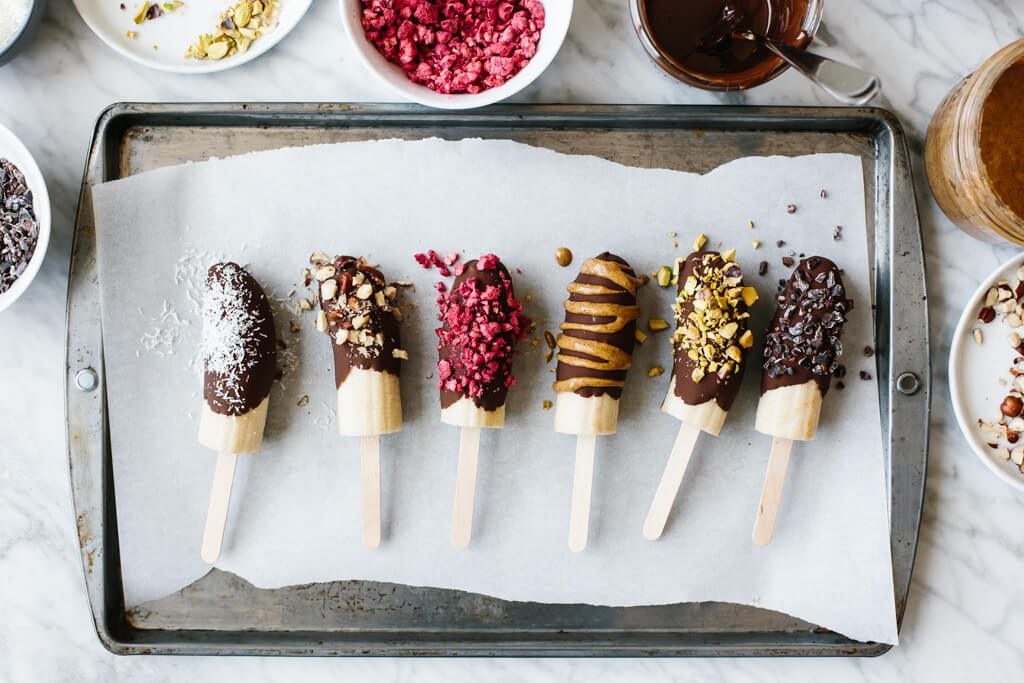 Source: Downshiftology
Surely one of the easiest recipe in the list, you only need to assist your kids in melting the chocolate and cutting the bananas into half. Other than that, just watch your kids take charge and have fun decorating their chocolate bananas.
Ingredients
1 cup of chocolate chips or chocolate bar

Optional toppings – Nuts, Dried fruits, Seeds, Peanut Butter, Candy sprinkles
Instructions
1. Peel the bananas, then slice in half and insert a popsicle stick into the cut end.
2. Lay the bananas on a piece of parchment or wax paper and freeze them for at least 2 hours.
3. Melt the chocolate
4. Dip the frozen banana into the melted chocolate and twirl to remove any excess. Add on any toppings while the chocolate is still wet, then allow the chocolate to fully harden. Enjoy immediately.
3. FROZEN FRUITS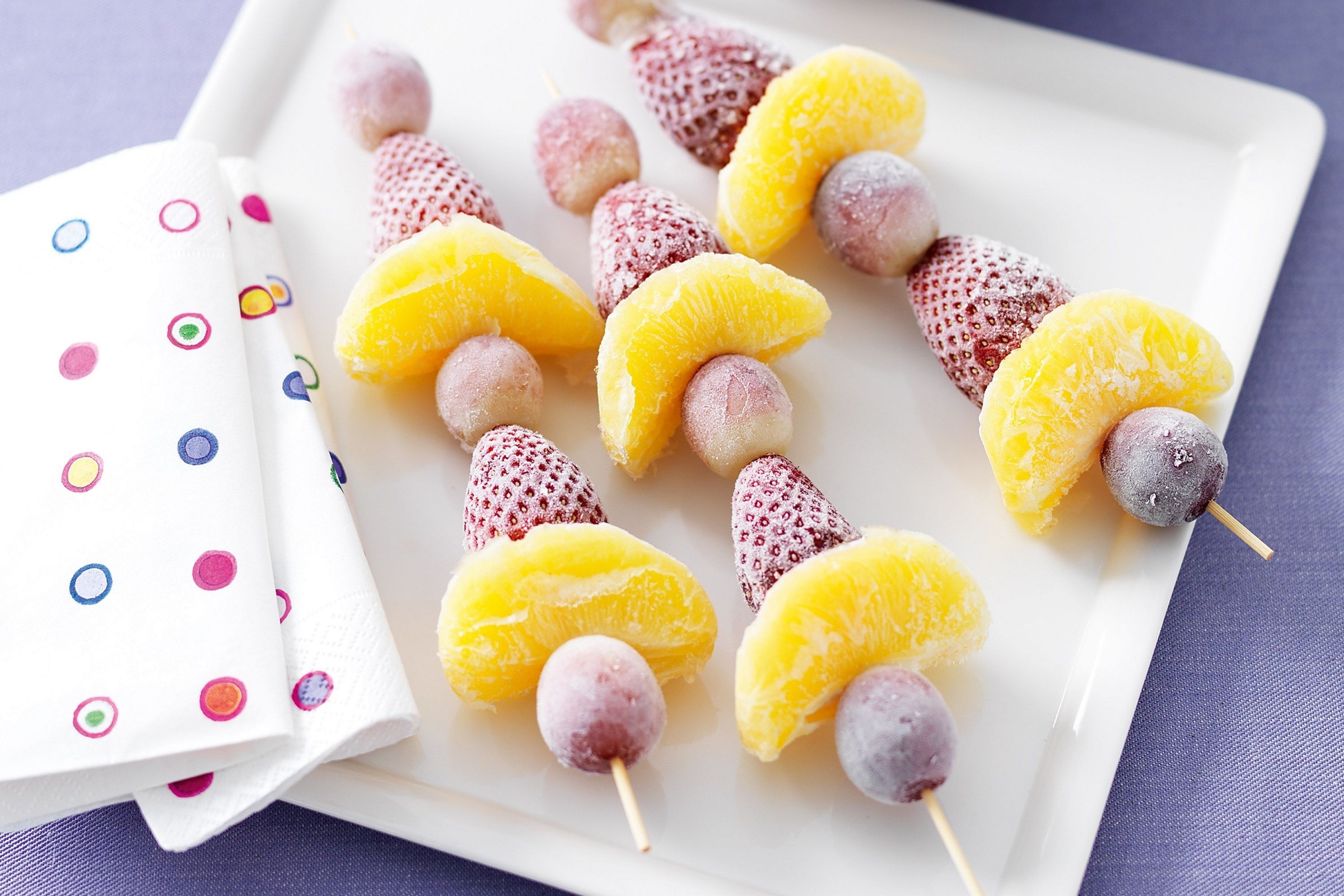 Source: Taste.com
An alternative healthier option, frozen fruits are really easy to make and will guarantee a smile on your kids' face. The best fruits to be eaten frozen include orange, kiwi, pear, berries, grapes, watermelon and bananas. You can coat them in yogurt or for a less healthy option, you may follow the "Chocolate Banana" recipe to drizzle some chocolate sauce.
Ingredients
Berries

Optional toppings – Yogurt or Chocolate
Instructions
1. Rinse and slice your fruit.
2. Let your kids thread the fruits onto skewers.
3. Place them on a tray with parchment paper or if not, just place them in a snap-lock bag.
4. Optional – You may drizzle some yogurt or melted chocolate.
5. Freeze them for a couple of hours or just leave it overnight.
4. NUTELLA BROWNIES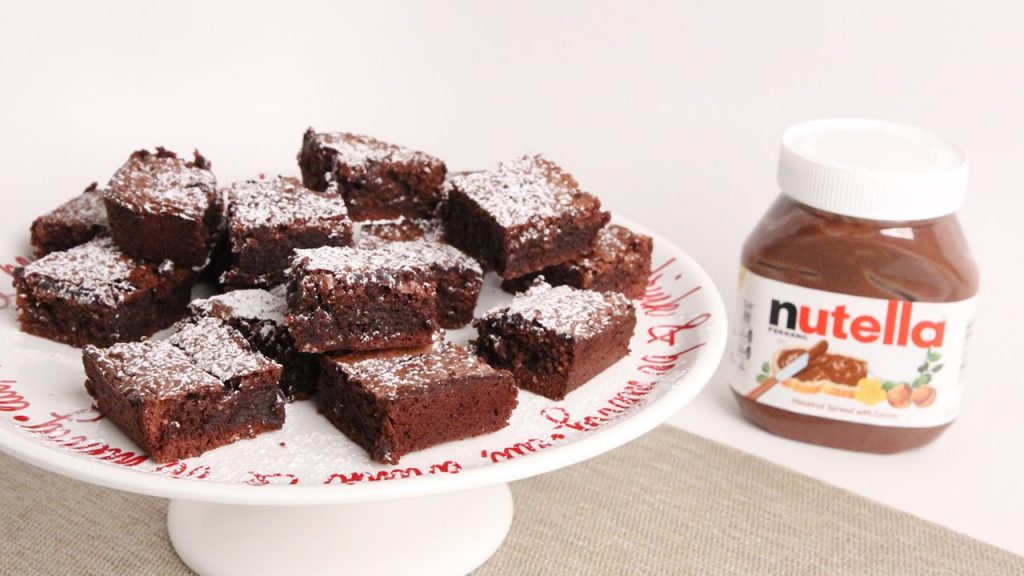 Source: Kirbie Cravings
Get your kids' hands messy with baking this rich delectable which is really easy to bake. Your kids will have fun breaking eggs, stirring ingredients, and decorating their brownies! You may even let them use cookie cutters to cut the brownies into shapes for fun.
Ingredients
1/2 cup of all-purpose flour

Optional toppings – Melted chocolate, nuts, ice cream
Instructions
1. Preheat oven to 350°F.
2. Grease a metal baking pan.
3. Add all ingredients into a large bowl and mix them until batter is smooth.
4. Pour batter into baking pan and smooth the top with spatula
5. Bake for about 15 minutes. Let brownies cool and set before cutting and serving.
6. You may decorate the brownies with additional toppings as you wish.
5. MINI LASAGNA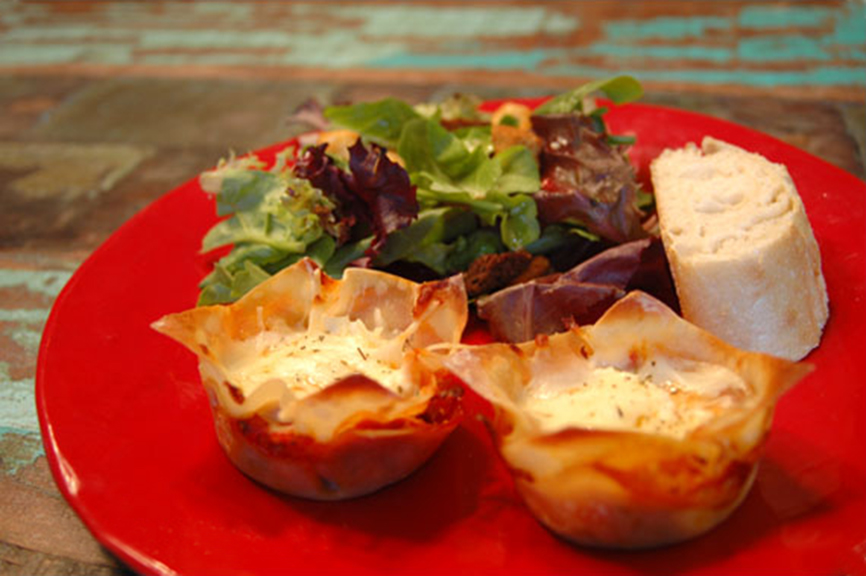 Source: Catching Fireflies
Some parents may not prefer to feed their kids with too much sweet stuff, so here is a more savoury recipe for you. While baking lasagna can take a long time, it'll be easier to bake a mini version instead. With your kids' little hands, they will have fun adding ingredients and fillings into small cupcakes-like lasagna wanton!
Ingredients
Parmesan cheese

Wanton wraps

Italian seasoning

Ground meat or sausage (Up to you)
Instructions
1. Spray cupcake pan with olive oil or butter.
2. Place one wanton wrap in each cup.
3. Mix the cheeses in a small bowl.
4. Add a layer of sauce, meat and cheeses in the wrap, and then repeat the layer until the wrap is filled.
5. Finish with sprinkling Italian seasonings at the top.
6. Bake in the oven at 375°F for 18 to 20 minutes.
7. Let it cool first before popping them out.
6. MAC AND CHEESE BITES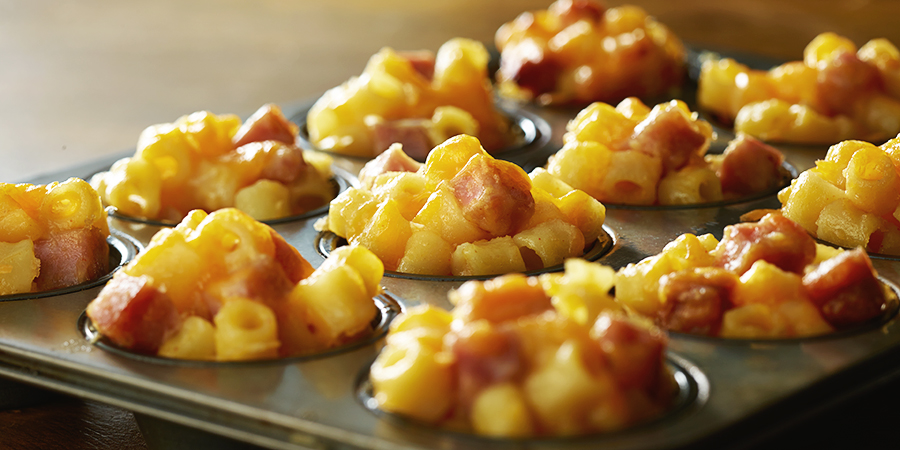 Source: Hormel
No kids can say no to mac and cheese! What about making some mini mac and cheese bites with them? Easy to make, your kids will have fun stuffing mac and cheese into tiny muffin trays and savouring them after. My favourite part of this recipe has to be crunchy edges and each bite is just so heavenly. You have to try this for yourself!
Ingredients
½ pound of macaroni

2 tbsp of butter

2 tbsp all-purpose flour

1½ cups of milk

1 cup (4 ounces) of  grated sharp cheddar cheese

2 ounces cream cheese

½ teaspoon salt

¼ teaspoon pepper

Diced ham or sausage

1 egg beaten

Pinch of cayenne

½ cup grated Cheddar cheese for garnish

Chopped parsley or chives (Optional)
Instructions
Preheat oven to 425°F.

Melt butter on medium-high heat. Then, add flour and whisk until flour is evenly batter.

Slowly add milk and bring to a simmer.

Reduce heat and add in 1½ cups of the cheese, cream cheese, salt and pepper.

Stir until completely melted. Remove from heat.

Pour them in a large bowl and then, stir in ham, egg, cayenne and pasta until evenly mixed.

Spray mini muffin tins with olive or canola oil.

Spoon mac and cheese mixture into each cup and lightly pat down to bind the pasta together.

Top it with extra grated Cheddar cheese.

Bake for 10 or until the top is slightly golden brown and sizzling.

Allow to cool 10 to 15 minutes before gently removing the bites.

Garnish with chopped parsley or chives, if desired.
7. PITA PIZZA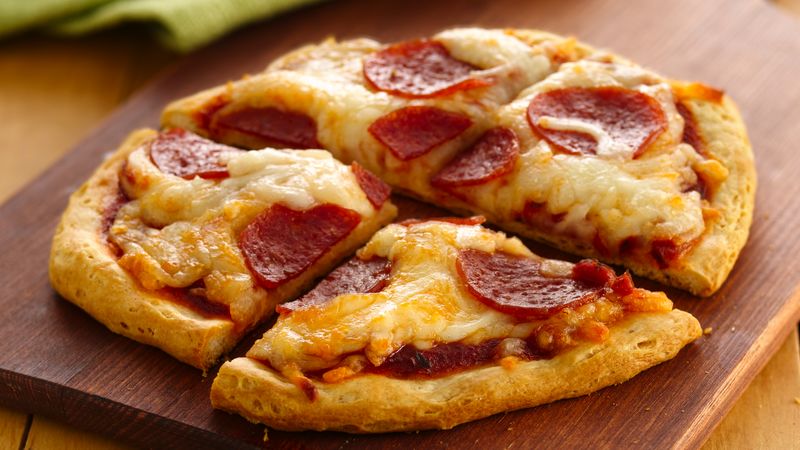 Source: Pilsbury
Your kids will love scattering and spreading toppings and ingredients on pita pizzas. The fun part is everyone can customize their own toppings and they can add as much as they desire. It'll be a hearty dinner with your family and you can even re-heat it for your kids' lunch the next day.  Everyone loves a good pizza!
Ingredients
Pita breads

1 cup of tomato or pizza sauce

Sliced pepperoni meat or shredded meat

2 cups of Mozzarella cheese

1 pinch of dried or fresh basil

1 pinch of dried or fresh oregano

Optional: Olive, tomato, red peppers, asparagus, parmesan cheese
Instructions
Preheat oven to 425°F.

Bake the pita bread for 1 minutes, or until soft. Bake it longer if you want a crunchier crust.

Spread the pitas on greased baking sheet.

Flatten the pitta bread while spreading with tomato or pizza sauce.

Add on your desired toppings evenly – Cheese, pepperoni, basil, oregano

 Bake for about 10 minutes, or until they have reached your desired crispness and cheese is bubbly.

Let them cool for awhile before cutting into slices. Serve while it's warm.
8. PANCAKES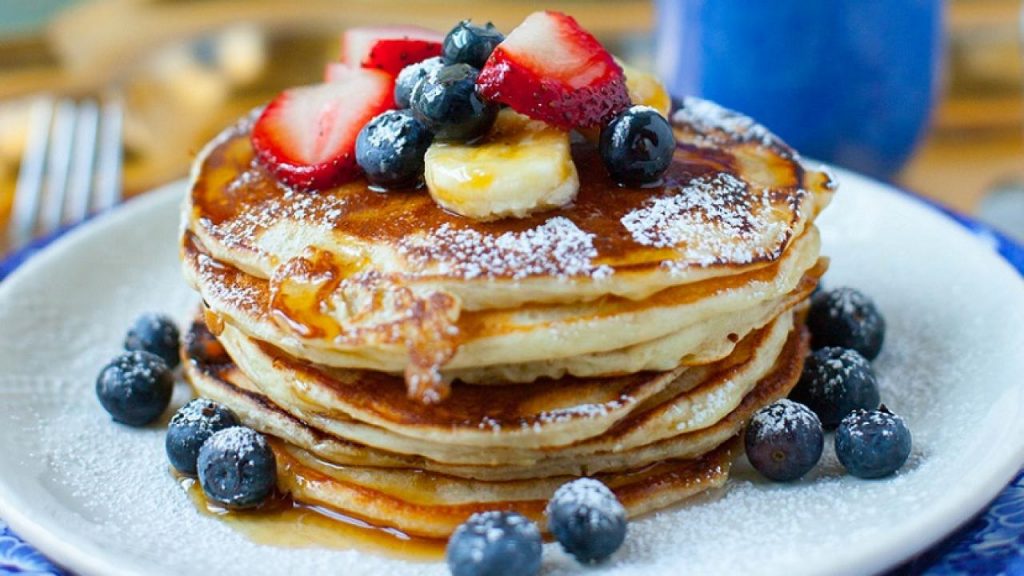 Source: Get Cracking
Good 'ol pancakes! Drizzled with honey and eaten hot right off the pan, this classic american breakfast certainly can win the kids' heart. Instead of getting pancake mix from supermarkets, you can make your own so you'll know what you're feeding the kids. You may even make it more interesting by adding nuts, berries, nuts and chocolate chips into your pancake batter. Let your kids have some fun dough-time whisking and mixing the batter! Oh, you may even keep the batter and use it for waffles later on!
Ingredients
175 ml (3/4 Cups) of all-purpose flour

60 ml (1/4 cups) of corn starch

2 Tbsp of wheat or wheat germ (Optional)

1 Tbsp of granulated sugar

1½ Tbsp of baking powder

½ Tbsp of baking soda

¼ Tbsp of salt

2 Eggs

250 ml (1 cup) of buttermilk

2 Tbsp of vegetable oil

½Tbsp of vanilla extract

Optional toppings – Maple syrup, butter, Berries, Nuts, Fruits
Instructions
1. In a large mixing bowl, stir flour, corn starch, wheat (if using), baking powder, baking soda, sugar and salt.
2. In a small bowl, whisk eggs, milk, vegetable oil and vanilla extract. Add them into the large mixing bowl and whisk until evenly combined.
3. Grease your non-stick pan with olive or canola oil. Heat over medium-high heat.
4. Spoon about 50 ml (¼  cup) of batter per pancake into the pan and spread it slightly. You may put lesser batter for cute mini pancakes as well.3
5. Cook for about 2 minutes or until bubbles appear on the surface. Turn it around and cook it until slightly browned.
6. Serve it on a plate and if you want, add some toppings or maple syrup to go with it.
And those are the 8 simple recipes to prepare with your kids at you. We hope that you and your family will have fun preparing and savouring them! Let us know in the comment box below if you have tried it and how was your experience. We would love to hear from you!
Also, do check out our previous article "Fun Activities to do with your Kids at Home" and "Board Games to Play with your Kids & Teens".