During Thaipusam, thousands rise in the crack of dawn with a determined solution – to have their flesh pierced, tugged and skewered with their shoulders bearing the weight of 30kg kavadi structures. It is a dynamic, colourful, happy yet devotional Hindu festival that attracts around one million devotees and spectators every year.
This festival of faith, endurance and penance is celebrated to honour Lord Murugan, the god of courage, wealth and wisdom. According to Hindu mythology, Thaipusam commemorates the day when Pavarthi, the Hindu Goddess gave her son, Lord Murugan a spear called "Vel" to destroy evil demons. The "Thai" in Thaipusam means "10th" and pusam means "when the moon is at its brightest." Thaipusam is celebrated annually during the auspicious 10th month in the Tamil calendar on a full moon day. Dates can differ and change year by year, but it usually takes place between January and February and lasts for three days.
This year, Thaipusam falls on the 8th of February.
THAIPUSAM IN MALAYSIA
Source: KL Sentral
The Hindu festival of Thaipusam is about faith, endurance and penance. The observers gather around the famous Lord Murugan shrine, Batu Caves to present offerings, pray or simply revel in the carnival-like atmosphere. But, it is the devotees' peculiar piercings and strength to perform the unimaginable that draws people in. Devotees present their offerings by carrying a kavadi which may be carried by hanging on their bodies.
WHAT IS A KAVADI?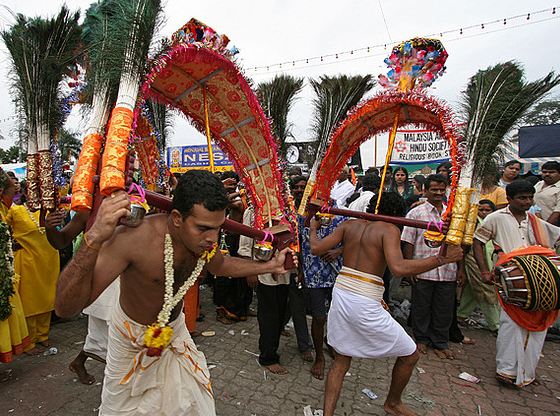 Source : Khurki
A kavadi consists of a short wooden pole surmounted by a wooden arch. Pictures or statues of Lord Murugan or other deities are fixed onto the arch. The kavadi is decorated with peacock feathers and a small pot of milk is attached to each end of the pole. Over the years, kavadi evolved into many forms and sizes. Some of the most popular kavadis involves piercing of tongue, cheek and skin. Worshippers may have heavy pots and fruits hanging from their bodies with hooks while others bear kavadis decorated with flowers and peacock feathers.
WHY DO PEOPLE PIERCE THEIR BODIES?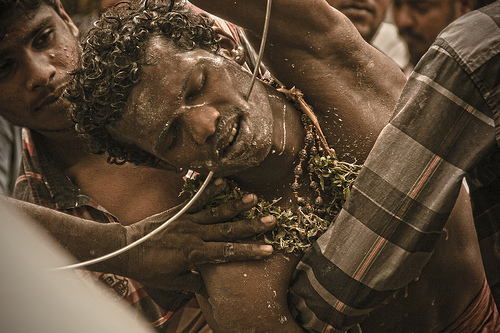 Source : Khurki
Devotees make vows and pledges to Lord Murugan to prove their gratitude to him. Upon having their wishes granted, they pay penances to him during the Thaipusam day. One of the most popular way penances are paid is by bearing the Kavadi. By carrying the kavadi, it is believed that it helps them to surrender their sins – ego, anger, lust, greed and hatred.
Kavadi bearers is believed to enter into a trance-like state known as "arul vaku" with chanting and beats of the drum. The energy of the deity flow through their bodies which enable them to pierce their flesh without feeling much pain. To be a kavadi bearer, devotees have to exercise abstinence 48 days, fending off all manner of luxury, embellish and desire before the festival. Vegetarianism is mandatory during this period. On top of that, kavadi bearer has to refrain themselves from alcohol, smoking and vulgarity. Devotees also have to sleep on the floor without pillows on all 48 days and wake before sunrise for meditation and chants.
While it is nice to bring your kids to Batu Caves to witness the colourful and exciting Thaipusam festival, the experience may be hectic and claustrophobic to some children due to the crowd. Make sure that you keep your child close to you all the time so that you don't get separated.