There was nothing unusual with the pregnancy except for a premature contraction at 22 weeks gestation. The doctor mentioned that Adele was just very active and mother, Mei Yean has a very sensitive cervix. Due to the contraction, Mei Yean rested a lot in bed and worked from home.  At 35th week, little Adele arrived safely into the world. Weighing 2.27kg,  the doctor commented that Adele is doing well and there was no abnormality.
Although Adele was a little slow and arches to the back a lot, she was still pretty responsive and smile a lot. It was only during her 2nd month doctor visit, the doctor mentioned that Adele's head grew only 0.5cm which is pretty unusual. Mother's instinct, Mei Yean could sense something is not right and she brought Adele to see a doctor at Prince Court. Adele's ultrasound showed that her brain ventricles are dilated and she needs to be referred to a neurologist. Tears just couldn't stop flowing down Mei Yean's face.
At this point of time, Mei Yean knew that she has to be strong for both Adele and Leah. Adele was brought to SJMC and her CT scan showed lots of calcification scattered all over her brain. In simple terms, her brain cell hardened and it will not develop just like a normal child. She may be blind, deaf, unable to sit, stand or walk. They were literally told to give up as there's basically nothing much they can do apart from rehabilitation therapy. And the most heartbreaking prognosis is that Adele will have a very short life span – maybe a year or so.
Mei Yean was introduced to a treatment programme by a friend and after 1 month of trying it out, Adele was able to hear completely without her hearing aids. Seeing her drastic improvements, Mei Yean decided to quit her job and to continue the exercises with Adele at home every day, as well as home school Leah.  It was definitely a long and huge battle as Mei Yean needs to bring Adele to Philadelphia, United States every 6 months for intensive treatment and each trip will cost them approximately RM45,000. Having only her husband as the sole income source, it was definitely a huge challenge for the family. 
However, Leah is truly mature beyond her age and she is constantly thinking of ways to raise funds for her beloved sister, or methods to improve Adele's condition. Little Leah wanted to help and she tried raising funds by singing Adele's song "Someone Like You" and uploaded it on Facebook. One day, while she was watching Junior Masterchef on YouTube , an idea struck her. She decided to learn baking through YouTube and it took her months to get the recipe right. Leah said, "Practise makes perfect. If the cake comes out wrong, just keep on trying over and over again. That's how I got my first ever recipe right. I never gave up. No one should ever give up on what they want to do." Leah began selling cupcakes and cakes on Facebook. She managed to raise a whopping RM24,000 for her sister. She was only 4 years old!
In 2015, Leah released her first book, Chef Leah with a Big Heart and published by MPH Group Publishing in 2018. Her children's cookbook features recipes and methods to bake cupcakes, as well as her fond memories with Adele and raising funds for the Rohingya boat peope and Food Aid Foundation. Cupcakes truly opened many exciting doors for Little Leah. She also clinched the Tuanku Bainun Young Changemakers Award.
Leah has always been Mei Yean's pillar of strength. "I still remember how she placed both her tiny hands on my cheeks, clearing off my tears, telling me not to cry. She assured me Adele would be okay and that we needed to bring her to the doctor. I will never forget that minute of my life, where my life was a total darkness, God sent me this light that kept me going till today," recalls Mei Yean. Given Adele needs most of Mei Yean and her husband's attention, Leah has never shown any signs of jealousy or resentment towards Adele.
In contrast, her love for Adele is so great that her faith has never died. This year, she plans to publish a second book this year on keto or gluten-free cupcakes, just because Adele is on a keto diet. Leah also plans to travel to Brunei and Singapore for the book tour. Mei Yean recalls how Leah used to be so camera shy and now being featured in newspapers, magazines and television. Leah often refuse interviews or photoshoot for the reason she believes that there's no need to be famous and she's only doing them because she loves her sister. To lighten her parents' burden, Leah started helping out in house since she was barely 3 years old and now, she feeds and bathe Adele, and assists Adele with her muscle strengthening exercises too.
Now Adele is going to be 8, and her head has grown to around 40 cm. Adele is able to crawl and even speed read! Leah expressed that by the time Adele finishes one book, Leah barely even read half of it. Leah's selflessness, determination, faith, and patience are something all of us can learn from! To Little Leah, you are an inspiration to us and continue believing in what you do!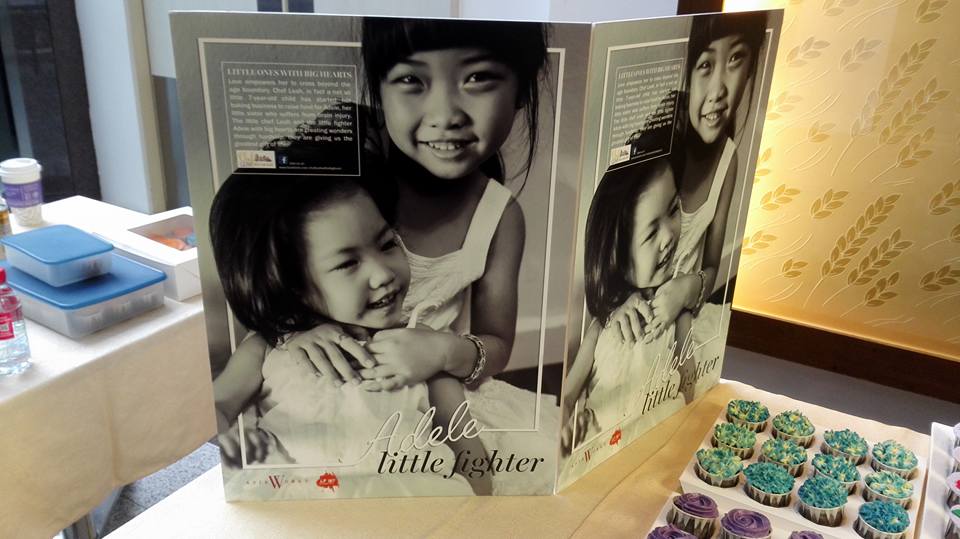 Source: Chef Leah with a Big Heart