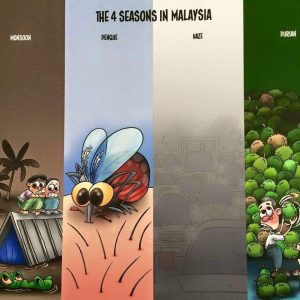 They say that we don't have two, but four seasons in Malaysia – monsoon, dengue, durian and haze season. And this September, haze is making its unwanted comeback again, causing a massive increase of people being admitted into hospitals due to breathing difficulties and hundreds of schools to be closed.
Then, on Tuesday (17 September), Sri Aman, Sarawak became the first region in the country to have hit the 'hazardous level' of air pollution as the Air Pollution Index went over the 300 indexes. With studies showing that fine particles from haze can cause not just irritation to the skin and eyes but can also lead to the development of chronic respiratory diseases like asthma and bronchitis as well as cardiovascular problems like heart attacks, it is certainly not something that should be taken lightly. This said, here are some measures that you can take to reduce the risk of getting sick during this haze season.
Stay Indoor
It is best to stay indoors during the haze attack because of the high concentration of pollutants in the air can dangerously deteriorate your health. This is especially true for young children, elderly, as well as those who are already suffering from respiratory ailments.
When indoors, avoid opening the windows and doors wide open and turn on your air conditioner or air purifier instead. An effective air conditioner or air purifier can help to remove solid particles from the air and keep your air clean.
Avoid Straining Physical Outdoor Activities
Given the current air quality, when you are engaged in outdoor physical activities that requires you to use more energy, there is no doubt that you will be inhaling more pollutants as you breathe. Therefore, best that you only exercise indoors and try not to go out as much.
Put On Mask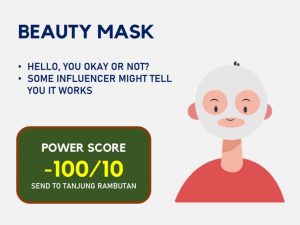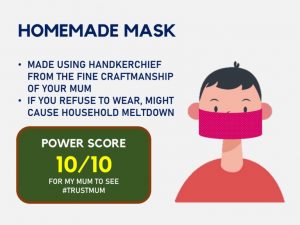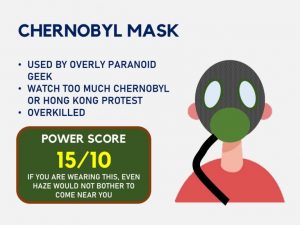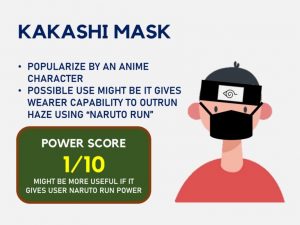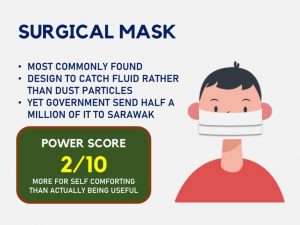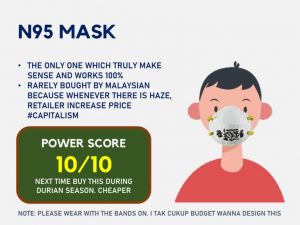 In reducing the risk of getting any airborne diseases from this haze, you are encouraged to wear respiratory masks such as the N95 mask. Unlike the normal black mask and the surgical mask, the N95 is able to filter up to 95% of the dangerous haze particles in the air.
If possible, before buying one, try to make sure that it properly covers your hose and your mouth, or else it would be less effective. It is important to not share your N95 mask and dispose it once it gets dirty and no longer in its original shape.
Always check the air quality
If you are unsure of whether you should be wearing a mask out that day or not, you can take a look at the Air Pollutant Index of Malaysia (APIMS) webpage, or the Real-time Air Quality Index Visual Map. The reading of 0-50 indicates 'good' air quality, 51-100 is 'moderate', 101-200 is 'unhealthy', 210-300 is 'very unhealthy', and above 300 reading is considered 'hazardous'.
Keep hydrated
The reason why many people suffer from sore throats, bad coughs as well as skin and eye irritation during the haze season is because haze particles contain irritants that can cause inflammation to our body. To combat this, make sure that you drink at least 2 litres of water everyday as water is crucial in flushing out the toxins that you ingested as you breathe. If you're bad at remembering when to drink, maybe set an alarm, or get your colleague or family members to remind you.
Wash up
Make it a habit to wash your hands and face more often during this haze season to avoid you accidentally ingesting the toxins when you eat. We would also encourage you to take a shower straight after you get home and not to sit on your sofa, carpet or bed if you haven't. You don't want the haze particles stuck on your clothes to be transferred to your home and irritate your skin later.
Get a Check-up if You are Feeling Unwell
While cough, skin and eye irritations are common and typically unharmful, haze can complicate these conditions especially if you are susceptible to it. It is better to be safe than sorry, therefore you should get medical help before your symptoms worsen.
Avoid Causing More Pollutions
In essence, haze is consists of dust, smoke, exhaust and many other dry particulate matter in the atmosphere. What can elevate the problem are things like smoking, barbecuing outside as well as open burning. If you can, try to educate and encourage those around you to not do these things. The act may seem small but the impact is not.
For now we can just pray that the air quality will get better soon, but meanwhile, take care and don't forget our tips!