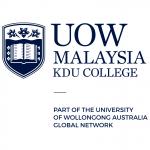 Key Info
Founded Since 1983

Institution Type Private College

Fees Range $$$
Overview
UOW Malaysia KDU College, located on the Utropolis Glenmarie Campus, offers quality pre-university programs, selected bachelor programs including a Bachelor of Laws (LL.B) in partnership with University of London UK, an American degree transfer program, and the ACCA Professional Accountancy program. Students may commence their pre-university studies at UOW Malaysia KDU College and then proceed to study their bachelor program at one of the three UOW Malaysia KDU campuses within Malaysia or University of Wollongong in Australia, Dubai or Hong Kong. The College's close collaboration with top-ranking foreign university and education partners ensures students pre-university and bachelor degree qualifications are globally recognised.
The College relocated to UOW Malaysia KDU's flagship Utropolis Glenmarie Campus in March 2021. With its state-of-the-art facilities and a contemporary teaching and learning environment students are able to enjoy the international-style campus experience for which all our global campuses are known. The Utropolis Glenmarie campus provides a variety of learning spaces, a spacious modern library, culinary and hospitality facilities, engineering laboratories, a Games Lab, multimedia facilities and much more.

Partner with IMI International Management Institute, Lucerne, Switzerland

Partner with ALMA La Scuola Internazionale Di Cucina Italiana

Partner with University Of Lincoln

Partner with Northumbria University, UK

Partner with ACCA

Partner with CPA Australia

• Lecture Theatre – From wide halls to classrooms, each lecture theatre were designed for students' comfort.
• KDU Square (Cafeteria) – From western to Asian cuisines, students gather at this brightly lit space for the meals to get them going.
• Computer Lab – High speed internet access and printing facilities are available across the many labs available for use.
• Library – Students are given access to thousands of books, journals and other literature, inclusive of online library resources.
• Bookstore – A one stop centre for text books, reference books and other stationary needs made available on campus.
• Accommodation – Hostels fitted with quality furniture and facility set to make students feel at home.
• Pandemonium (Jamming Space) – A hotspot for students to kick back and jam up some funky sounds and music.
• Student Lounge – A student hotspot equipped with comfortable furniture for students to ease their minds.
• Science Laboratory (Physics Lab) – Students conduct the various experiments in the safe spaces laboratory.
• Science Laboratory (Biology Lab) – Students conduct the various experiments in the safe spaces laboratory.
• Moot Court – Students are able to mimic the real court situations in the dedicated Moot Court.

The UOW Malaysia KDU University College, Utropolis, Glenmarie provides on-campus Student Accommodation at its 10-acre campus. Located next to the academic block, is the Student Accommodation Block covering 7-levels, divided into male and female wings. Services such as an on campus convenience store and internet service is available. The campus is part of Utropolis, a university metropolis in Glenmarie, Shah Alam. The Utropolis project consists of a retail centre, residential suites and the UOW Malaysia KDU University College.
This 7-story block can accommodate up to 612 students and students studying the various disciplines will be able to interact with one another. The larger student community offers the benefits of:
• Vibrant student life
• Close camaraderie with fellow UOW Malaysia KDU students living in the same community
• Exposure to diverse cultures of students from various parts of the world
• 2-minutes away from the Academic Block
• 292 single rooms
• 160 twin-sharing rooms

Shuttle van & bus schedule
Students are REQUIRED to show their STUDENT CARD when boarding. Shuttle bus routes are subject to change due to traffic conditions, and without prior notice.
UOW Malaysia KDU College, Damansara Jaya to UOW Malaysia KDU University College, Utropolis, Glenmarie
Route : UOW Malaysia KDU College, Damansara Jaya → Kelana Jaya LRT Station → UOW Malaysia KDU University College, Utropolis, Glenmarie
Approximately 18km one way (Off peak hours – 30 minutes, Peak hours – 45 minutes to an hour)
UOW Malaysia KDU University College, Utropolis, Glenmarie pick-up points (Round Trip)
Route : UOW Malaysia KDU University College, Utropolis, Glenmarie → Glenmarie LRT Station → Subang Jaya KTM Station → Shah Alam Giant → UOW Malaysia KDU University College, Utropolis, Glenmarie
Approximately 20km round trip (Off peak hours – 1 hour, Peak hours – 2 hours)
Reviews
GameDev course is divided under 3 streams - Design, Art, Tech Art courses are fairly well done with decent application of hard skills for 3d creation and animation and the other myriad of art-based specializations. Can't say for Tech, I've never had any classes under that stream. Now, if youre still reading this, I want you to contemplate everything Im about to say. Do. Not. Take. Game Design. Several major lecturers under this course are absolutely incapable of nuanced creative discussion, provide vague, useless "Master Oogway" directions and advice. The design stream also currently has a batch of poster-boy students whereby the lecturers will almost too obviously be lenient towards them. The current standing batch of seniors continually exhibit a pattern of behavior of abusing their seniority and familiarity with the lecturers with administrative power and putting pressure on juniors that might have so much has mildly angered them, regardless if they actually did something wrong. Majority of the students here are incredibly incompetent, childish for young adults, petty, and contribute to toxic work culture if they were to graduate into the industry.