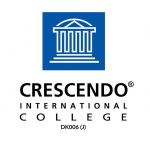 Key Info
Founded Since 2001

Institution Type Private College

Fees Range $$$

Student Numbers 1200

Ranking/Rating 19592
Overview
Crescendo International College (Crescendo®) is one the few colleges in Malaysia that consistently provides world-class qualifications at affordable fees.
Crescendo has been providing some of the most internationally valued qualifications with notable success. Since 2001, it has produced over a thousand Cambridge A Level graduates and ACCA graduates while giving rise to several world-class prize winning students in both programmes along the way.
Crescendo is also the only private college in Johor recognised by the University of London to deliver its prestigious academic programmes in Southern Malaysia; thereby, presenting its students with exclusive access to world-class degrees that subsequently make them highly sought after by top corporations worldwide. And over the years, many of Crescendo's University of London students have graduated with 1st-class Honours and won the World's Highest Mark awards.

Partnership with Oxford Brookes University (UK)

Partnership with Crescendo-HELP International School

Facilities:
• Lecture Halls
• Classrooms
• Comfortable study area
• Library and resource centre
• Computing laboratory
• Science labs
• Air-conditioned cafeteria
• Recreational Area
• Disability –friendly environment
• Swimming pool
• Health Gym
• Track and Field
• Dance Studio
• Multipurpose Hall
• Tennis & Futsal Court

Desa Cemerlang Campus – Hostel
Safe, Comfortable & Convenient equipped with hostel security service; 24-hour WiFi coverage; comfortable study areas; self-service vending machines, washing machines & dryer etc.; our 51 room on-campus hostel provides you a safe and comfortable student-living environment.
Room Rates:
• Single Room: RM380/mth
• Double Room: RM300/mth
Facilities Included:
• Prepaid Laundry Service
• Swimming Pool
• Gym
• Sauna & Jacuzzi
• Security

Transportation and Fee
• Registration for bus services at counter is NOW OPEN.
• Transportation service rate: RM200.00 / month (3 months advance rental)
• Transportation service is available from Monday-Friday
• Saturday transportation service is provided only when there are classes being conducted on that day.
Reviews
First of all, some of the teacher very lousy, dont know how to teach. But there is also some good teacher such as law subject, business subject and also account. Math lecturer can be better, Marketing teacher is the most worst. When you meet the lousy teacher your subject will be very hard as they do not know how to teach!!! Second, there is no event. Boring school life. Not recommended to stay at campus. Less facilities and also small canteen. School fee is same with other university and degree expensive compare with other uni, better go other uni if have choices. Law and account course is not bad though.