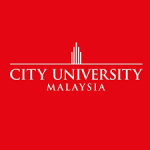 Key Info
Founded Since 1984

Institution Type Private University

Fees Range $$$$

Student Numbers 4500

Ranking/Rating 4
Overview
City University Malaysia was founded by a group of scholars with extensive experience in local and international universities in April 1984. Registered with the Ministry of Higher Education under the former Education Act 1961, City University was known then as Petaling Jaya Community College (PJCC). It was established at a time when there was a growing awareness that it was necessary for the private sector to complement the national education effort.
City University Malaysia, as one of the earliest private higher education institutions, started with preparing students for the American Degree Program (ADP). Through the decades that followed, City University Malaysia was primarily responsible for forming several twinning programs with reputable universities in Australia, United Kingdom and United States, as well as establishing various local courses that are recognized and certified by the professional organizations.
PJCC's aim was to equip high school leavers with extensive academic exposure to the American degree system moderated by the Consortium of American Universities and Colleges (CAUC). This was done through a biennial meeting in the United States. PJCC has successfully transferred over 20 batches of students to more than 100 universities and colleges throughout the United States, with many gaining places into the Ivy League universities for degrees in engineering (electrical, civil, mechanical and computer), journalism, business administration, finance, banking, accounting, marketing, insurance, economics, information systems, computer science, psychology, pharmacy, music and TESL. Although there were several private higher institutions in Malaysia, PJCC was the pioneer in the field for preparing students for transfer to the American universities.

City University Malaysia actively takes part in various projects and networks around the world. We form global partnership and foster relationship with other universities and institutions, which have a history of excellence. Through our extensive network of international collaborations, City University Malaysia offers various opportunities on many levels including student exchange and placement programs which provides a worldwide experience in the international capacity for our students.
Partnerships:
Vatel: 1st Worldwide Business School Group in Hospitality & Tourism Management.

Kingston University, London: Received Teaching Excellence Award by The Guardian.

Unversity of Bradford: Top 50 in the UK for Research Quality.

University of Suffolk: Various courses have been ranked in the Top 30 of the Guardian University Guide 2019.

Metropolitan College of New York: Chartered by the Board of Regents of the University of the State of New York.

Southern Cross University: Top 100 of Young Universities Worldwide.

Anglia Ruskin University: Top facilities & won Datapoint Merit category by the Times Higher Education Leadership & Management Awards (THELMAS).

Aberystwyth University: Top 50 in the UK and named University of the Year for Teaching Quality in The Times and Sunday Times Good University Guide 2018.

Wilkes University: Top 10 best institutions for Business majors in Pennsylvania by Zippia.

University Of Central Oklahoma: Top 80 in U.S News Best Colleges (Regional Universities West).

Bristol University: 9th in the UK, QS World University Rankings 2019.

Mod'Art International: The Top Parisian School of Fashion that's connected to more than 700 business partners

Tsinghua University: Many outstanding scholars, eminent entrepreneurs & great statesmen were born among over 120,000 graduates from Tsinghua.

Beijing Normal University: A public research university with various achievements for National University Scientific Research (Humanity & Social Sciences).

Sun Yat-Sen University: Remarkable achievements and assets that include the world's second fastest supercomputer Tianhe-2, the largest affiliated hospital system in mainland China & the largest teaching building in Asia.

Beihang University: A Chinese Ministry of Education Class A (Double First Class) University, and a member of China's Project 211 & Project 985.

Southwestern University Of Finance & Economics: Top 3 in Finance & Business orientation (national ranking).

Jinan University: The 1st China university to recruit foreign students & currently has the largest number of international students.

Chongqing University: A key national university & a member of the "Excellence League".

Sichuan Normal University: Obtained over 130 prizes through Scientific & Technological Awards, Invention Awards, Philosophy & Social Sciences Achievement Awards and High Quality Teaching Achievement Awards.

The impressive arrays of learning facilities available in City University Malaysia are a testament to our commitment to excellence. These learning facilities are equipped with the latest technologies to create an environment that replicates the real working world.

We believe our students are our most valuable assets, hence various interactive courses together with our facilities have been provided to ensure that students are equipped with the relevant skills and be market-ready to face the challenging work environment in the future.

Other than classrooms and lecture halls in City U, there is also multi-purpose hall (MPH), auditorium, computer labs, science labs, library, photography studio, fashion studios, culinary art classroom and more. Faculties, staffs and students thrive at City University because of its best combination of quality and scope, standards as well as its collaborative and innovative culture.

Having best-in-class modules is not enough to become an industry leader. At City U, we rely on efficiency and empowering our academicians and facilities to create the environment that make us the ideal place to study.

Our FREE accommodation is not only helpful, but also provide a stable environment with fantastic facilities to help you balance between studying and social activities. We provide two comfortable apartments for our students, which are:
Mentari Court Apartment

Damai Court Apartment.

Getting around the city is easy thanks to the city's expansive public transport network. On top of that, we also provide FREE transport inclusive for students to commute from the apartment to City University and back.
Three (3) vans

One (1) MPV

Three (3) buses
Reviews
I appreciate and I need more information about this special university scholarship
Great campus with effective student welfare and support with accessible location
Great campus with effective student welfare and support with accessible location