The early childhood of every child is the most crucial part in every aspects of their development – Physical, Social, Intellectual, Emotional, Cognitive and Behaviour. Parents must not only rely on education and schools to build your child in these aspects. Additional programmes and sports are equally essential for your child to acquire skills beyond what education can teach. A sequel to our previous article "What are the Age-Appropriate Sports for Your Child?", we will look at some of the recommended enrichment and sports centres that you can consider sending your children to in Selangor and Kuala Lumpur.
Edu Talent is a one-stop talent and fitness fun activity centre designed for the overall development of children between 6 months old to 17 years old. Hence, if you have a few children of different ages, Edu Talent saves you the hassle to send your children to different centres for their classes. Their classes and programmes are curated for the well being of the children from all aspects. Located in SetiaWalk Puchong, Edu Talent is definitely a unique enrichment centre as they operates like a gym membership. For a monthly fees, you can choose the level of membership package which entitles you to a certain amount of classes your child can participate in a week. With over more than 75 classes offered in a week, you have the flexibility to choose the type of activity  that your child is interested in and at a time convenient for you and your child. In addition, in case you're worried if your child will like it, Edu Talent offers free trial for both you and your child to experience together.
Below are some of the classes offered in Edu Talent:
Sports Academy – Yoga, Gymnastics, Basketball, Taekwondo, Futsal, Tennis, Fun Ball
Performing Arts Academy – Ballet, Dance, Arts & Craft, Drama, Music, Vocals, Story-Telling
Leadership Academy – Public Speaking, Tech/IT Mastery, Language Mastery, Financial Literacy
Operating hours: Daily 10.00am to 9.30pm
Location: Unit 2-7, Level 2, SetiaWalk Mall, Pusat Bandar Puchong
Contact: 60​3 – 8600 8688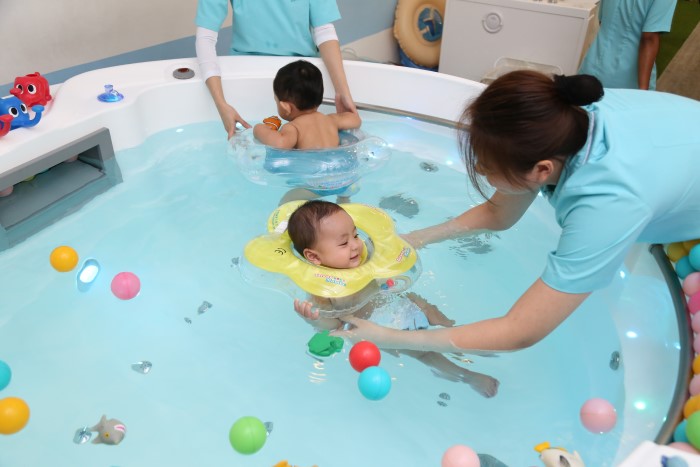 Hippopo baby spa is the first and largest Baby Spa chain in Malaysia. Having over 13 outlets nationwide, you can bring your little one for a dip at the nearest outlet to your home. Hippopo's services consist of 3 activites – Baby Gym, Baby Swim and Baby Massage. During Baby Gym session, your baby will start off with some light exercises to warm up before proceeding to Baby Swim. Warm water is used in their Hydrotheraphy method to assist your baby's body movement, strengthen muscles and help them relax. Last but not least, the whole session ends with Baby Massage for your baby's comfort and relaxation. Swimming for babies have been proven to improve their immune system, health,growth, reduce crying and emotional stress, and as well as help them to sleep better. Try them out and see for yourself!
Kindly check their website for more information on their locations and contact number.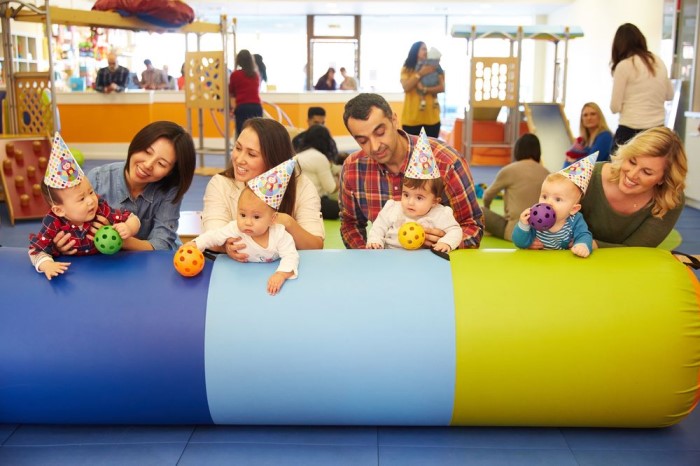 Gymboree Play & Music is one of the leader in early childhood development programmes for children Age 0 to 5 for over 30 years now. Originated from the US, Gymboree is operating in 33 countries across the globe with five of its outlets in Malaysia. Gymboree strongly believes in play and learn as children develop curiosity, creativity, problem-solving, strength-building and communication skills. In addition, in case you're worried if your child will like it, Gymboree offers free trial for both you and your child to experience together.
This enrichment centre offers 6 types of classes to develop different skills for your child:
Play & Learn – Sensory stimulation, Problem-Solving games, Storytelling, Play-based activities
Music – Songs, Dance, Movement Games, Instruments
Art – Painting, Sculpture, Drawing, Collage, Dramatic play
Sports – Soccer, Basketball, Baseball, Volleyball, Hockey, Racquet sports, Track and field, Golf
School Skillls –  Art, Science exploration, Play, Storytelling
Play Lab – S.T.E.A.M learning with themes like Stretch, Spin, Sound, Splash, Dwell, Shine and Squish
Gymboree has 5 outlets – Bangsar Village II, Publika, Empire Subang, IOI City Mall and Sunway Velocity Mall. Kindly check their website for more information on their locations and contact number.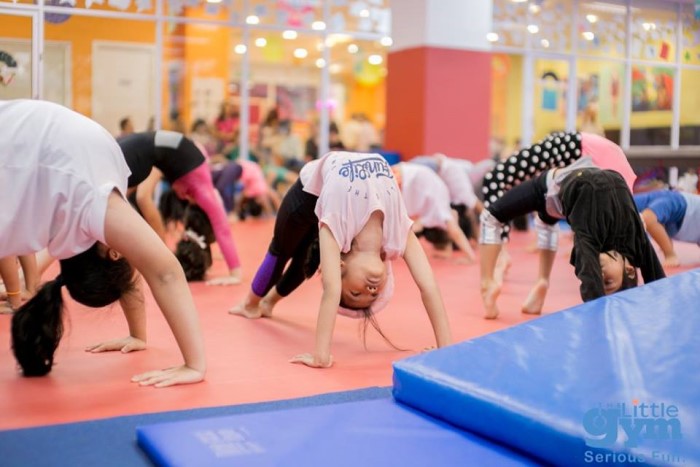 With more than 300 locations across the group, The Little Gym has been around for over 40 years and they're popular for their three dimension learning. The Little Gym focuses on physical development for children from 4 months old to 12 years old. All about physical activities, the classes offered helps to increase your child's physical strength, muscle control, fine and gross motor skill development, coordination and balancing. Below are some of the fun classes offered based on the children's age groups:
Parents & Child Activities
Gymnastics
Karate
Dance
Sports Skills Development
Additional Events – Camps, Parents' Survival Nights, Birthday Parties
The Little Gym has 5 outlets here- Hartamas Shopping Centre, Intermark Mall, The Curve and Subang Parade. Kindly check their
website
for more information on their locations and contact number.
Tweedlewink's teaching style reaches your child's right-brain receptivity with movement, imagination, gentle kindness, and playful exercises. Tweedlewink's programmes include 12 techniques, taught to 6 sensorial pathways at 6 key stages in a child's life. Catering for kids between 0 to 12 years old, Tweedlewink focuses on building children's photographic memory, speed learning skills, creativity, intuition and visualisation skills through lively games, flashcards and imagination building "magic carpet ride" in their lessons. Below are some of the types of classes offered by Tweedlewink:
Vision Enhancement
Vocabulary Builders
World Culture – Language, Music Geography
Music – Classical Music, Pitch Perfect, Rhythm, Notation
Reading -Phonics, Sight Words
Math
Science
Art
Tweedlewink has 3 outlets – Bandar Botanic (Klang), SetiaWalk Puchong and Neo Damansara. Kindly check their website for more information on their locations and contact number.
One of Ditoso's unique selling point is its interior design. Renovated like a children's fairytale castle, their aim is to let children's imagination and creativity run free with no boundaries. With such a beautiful learning space, children will be more attracted to learning. With mostly play-based curriculum, Ditoso advocates the benefits of play as a crucial learning tool for children. In addition, Ditoso plays alpha wave music in their centre which is to promote deep relaxation and better communication between the two brain hemisphere. Hence, accelerating the fullest potential of the right brain of the children. Breaking down into 7 levels, Ditoso focuses on different values on each level:
Level 1 – Honest, observant, frank, courageous
Level 2 – Fun, optimistic, adventurous, curious
Level 3 – Intuitive, determined, caring, self-assured
Level 4 – Alert, dexterous, steady, expressive
Level 5 – Prudent, sharp memory, tolerant, attentive
Level 6 – Aesthetic, reliable, calm, passionate
Level 7 – Logical thinking, independent, self-disciplined, extensive
Ditoso has 2 outlets- Kota Kemuning and Puchong Jaya Kindly check their website for more information on their locations and contact number.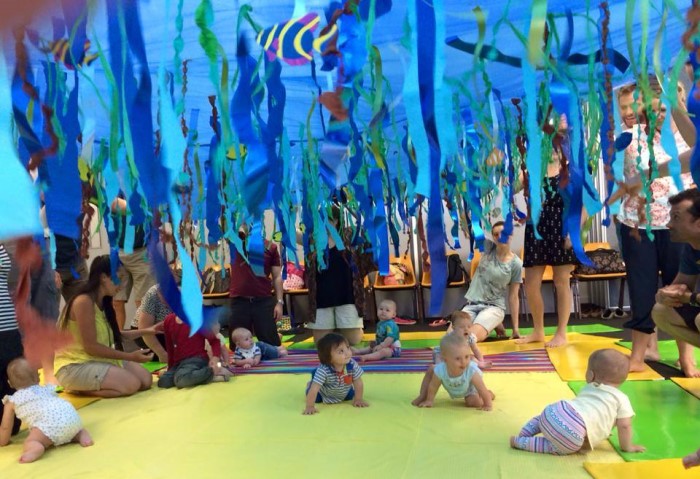 Baby Sensory's programmes are largely divided into baby development programme and the toddler adventure play programme. Baby development programmes mainly focuses on sensory experiences, speech development and physical contact such as cuddling, reflexology and massage. On the other hand, ranging from creative play, games and music, the toddler adventure play programme has a different theme every week. You and your baby will swirl through the snow, explore underwater world, laugh at the jungle jitters, watch little ducks and marvel at the magic land! Just know that you and your baby will always have something new and exciting to look forwards to! Not only that, Baby Sensory also offer sessions and workshops for parents to overcome challenges faces in parenting their baby, such as understanding your baby and knowing what to do to calm your baby's cries and colic.
Baby Sensory has 2 outlets- Sri Petaling, Bandar Puteri Puchong, Kota Kemuning and Sri Hartamas. Kindly check their website for more information on their locations and contact number.
———-
Give your bundle of joy the best they deserve, as early childhood development is the most crucial part of their lives! Share with us if you have any baby or toddler enrichment centres to recommend in the comment box below!
If you have not read our article "Pre-School 101: Everything you Need to Know", head on over right away!